Previous Article
Next Article
Aaj Tak Ran A National Debate On A Parody Tweet About Priya Varrier, Gets Trolled
Spoof or Parody is intended to poke fun. However, the close nature of reality gets misunderstood and it turns into real life comedy. News channel Aaj Tak had a taste of the ruthless side of parody when they fell for it.
A Twitter account Times Wow (parody of Times Now; a competitor of Aaj Tak) posted a rather controversial tweet.
Just In : After the viral video of Priya Prakash Varrier, Whenever we or our fellow Muslim Brothers closed our eyes to offer Namaz, instead of Allah, her face would appear, which is hurting our sentiments, hence we issued a fatwa against her."

– Maulana Atif Qadri (File Pic) pic.twitter.com/YOksBNt8S0

— TIMES HOW (@TiimesHow) February 14, 2018
Priya Varrier became extremely viral these past few days and was on every timeline. She featured in a song from Malayalam film  'Oru Adaar Love' that went on to create countless memes.
Aaj Tak thought the tweet to be from one of their competitors and actually covered it as real news. The news anchor Anjana Om Kashyap went into an impassionate monologue about the fatwa.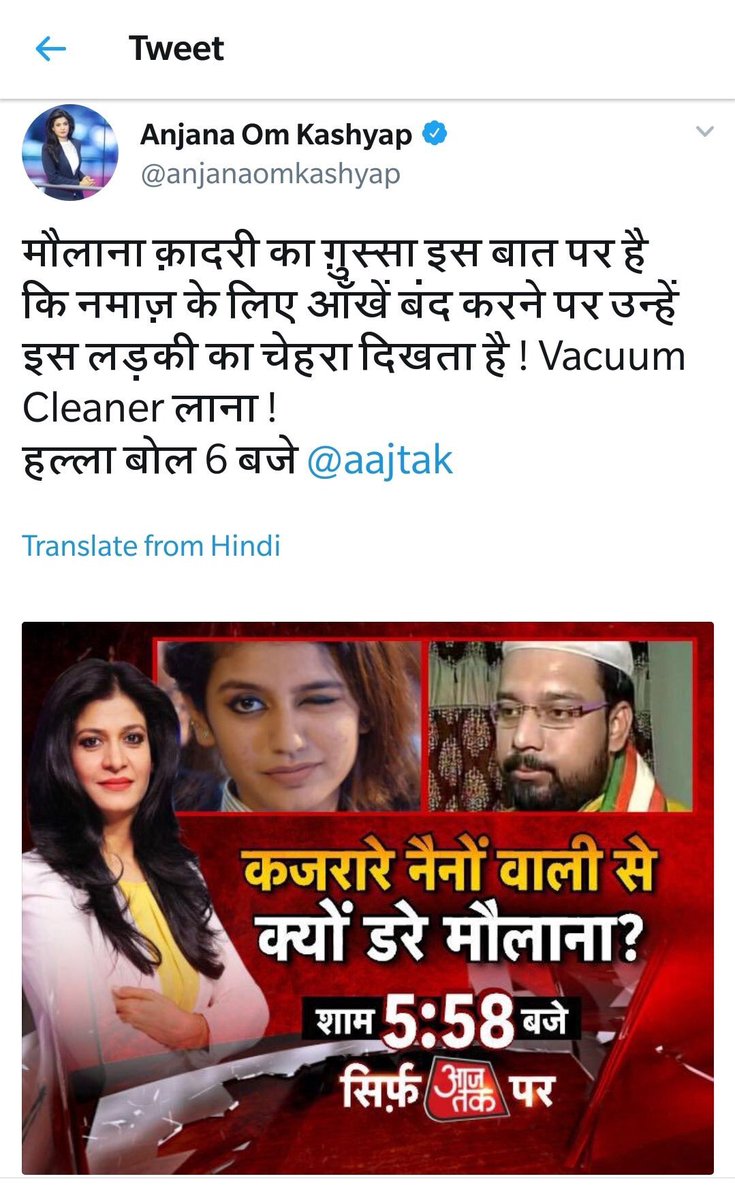 While for the unaware, it is understandable to be misled by such accounts. However, aren't news channels expected to dig a little deeper about their sources?
Honestly, this entire situation is a comedy gold.
This is how the twitterati reacted:
And Now @anjanaomkashyap will have a debate on @aajtak #HallaBol based on Fake Quote by a Parody Account.
Well Done Indian Media! pic.twitter.com/eZ8lm3gibk

— Unofficial Sususwamy (@swamv39) February 14, 2018
Can You Guys believe It? @anjanaomkashyap is currently have a PRIME TIME debate on @aajtak based on this Fake Tweet by a Parody Account. #GodiMedia pic.twitter.com/gssaGv5KfL

— Unofficial Sususwamy (@swamv39) February 14, 2018
Have to say that goddamn @TiimesHow tweet was genius. Thousands got taken in & I was no exception when these two tweets appeared on my feed courtesy @vasudha_ET & @GargiRawat. Perhaps because more than the handle and the DP likeness, the content was totally believable. Mea culpa! pic.twitter.com/LbIGbHmUUA

— Anand Ranganathan (@ARanganathan72) February 14, 2018
Meanwhile, @aajtak runs a whole show stemming from that @TiimesHow fake tweet. pic.twitter.com/m6mvazZ97t

— Anand Ranganathan (@ARanganathan72) February 14, 2018
Presenting you @aajtak
Best Hindi News Channel from last many Years

Debating on news spreaded by Parody handle 😂@anjanaomkashyap @ppbajpai pic.twitter.com/esjcAqkYzR

— Err.. (@Gujju_Er) February 14, 2018
Gold Standard of credible journalism? AajTak falls for such an obvious parody not only exposing a complete lack of fact checking but its own bias for such sensational news. https://t.co/WWDqxvafLH

— SamSays (@samjawed65) February 14, 2018
So @aajtak famed anchor @anjanaomkashyap falls for parody account of Maulana to vilify maulanas. This happens when you want to propogate this kind of 'news' to vilify Muslims. This is now a clear pattern with @IndiaToday
Group. Going the way of @TimesNow https://t.co/lXnLLaYz1D

— Prashant Bhushan (@pbhushan1) February 14, 2018
Liked what you saw on DailySocial?
Follow us on Facebook, Twitter and Instagram.
KEEP IN TOUCH!
Subscribe to our Newsletter
Don't worry, we don't spam