Previous Article
Next Article
A Sincere Letter Of Apology For My HR Department This Women's Day
So, it's happening again. The one day where no matter what you do, say or dare to post, you're a sexist asshole who deserves to rot in the deepest trenches of Satan's colon.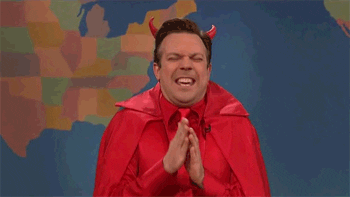 But betwixt all the sales and offers and unnecessary messages and necessary gifts, there is one administrative body that gets completely screwed over every time. Every year on women's day, they find themselves targeted by women around the world.
Who are these poor souls?
Why, your HR department of course.
If they give you a pink cupcake, they're assholes who automatically associate a traditionally gender-neutral color with women.
If they give you roses, they're assholes who associate a gender neutral object like flowers with women.
And God forbid if they give you plush toys, free manicures or cards.
If they give you a holiday, dudes might get upset, and we can't have that happen now, can we?
So to my HR department, I would like to offer my sincerest apologies, because even though women have it bad on every single day of the year, this is the one day you have it worse. Because we know you tried, in fact, you probably tried really hard to make us feel "special" and "empowered".
But we can't help it if centuries of oppression and discrimination can't be erased with a cleverly worded email. No dude from LnD or Recruitment is going to erase the past with a teddy bear or half melted bar of chocolate.
And it is truly unfair to have such high expectations of you. In fact, you probably hate this day as much as most women do. But unlike all the other festivals and arbitrary holidays, you're expected to give a fuck about, Women's Day is so tricky to navigate.
You can and probably hope that you could avoid it altogether. But you can't and we feel bad about that.
So let's come to a rational agreement.
You ignore this holiday completely, and we'll pretend it was the best one ever.
Just don't send us emails, or flowers or sweets and we'll go around telling everyone you guys totally nailed it. That way you can carry on with your lives and we can work without having to explain calmly how offering free manicures on a day celebrating the spirit of womanhood is pretty offensive.
Or if it's a cupcake, make it blue. Blue is a boy color after all, so it'll be alright.
Liked what you saw on DailySocial?
KEEP IN TOUCH!
Subscribe to our Newsletter
Don't worry, we don't spam